Thank you for visiting our Internet site for D.J. X-Press & X-Press Productions. You are always welcome to reach us at 308-345-5688. You can also contact us at our e-mail address: jesse@djx-press.com.
click photo to view more...
About Us
Established in 1992 Providing outstanding Mobile Disc Jockey & Sound Production Services ever since. Better sound and better entertainment through the use of "True Pro-Line Equipment" and by always learning. Our regular customers particularly value our dedication and attention to detail.
Our DJ's
Jesse Stevens
Jesse has built this company from the ground up. Founded in 1992, starting with just a pair of small speakers. Jesse also manages 3 leading radio stations in Southwest Nebraska/Northwest Kansas (KIOD,KSWN & KZMC). Jesse is a true entertainer on every stage from radio morning shows, dances, community events and even lends his voice to a gospel quartet. Jesse finds humor in almost every situation, gaining an almost immidate connection with every crowd.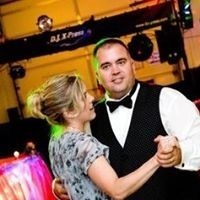 Andy Durner
Andy has been a solid part of our team for many years. He started working as a sound tech for our gospel quartet yet found a true love for making things sound great. He has a vast knowledge of both new & classic country hits, plus everything you'll find on today's dance floor. "Turbo" (as he's called by his friends) loves to find the perfect mix & mood for any party. Andy spends his weekdays working the land & cattle on his family's ranch in Frontier County of Nebraska.
Andrew Stevens
Andrew is taking on his own dances in the "Family Business." He has a great passion for music that began in worship bands and Drumline performances. His many years as a roadie and DJ mix controller have given him the experience to conduct great entertainment.
Additional available DJs
Austin
Austin brings quick humor to the mic and quickly connects with his crowd.